Press & Reviews
Phil Haldeman "Ellen St" Review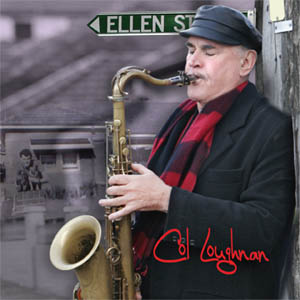 "When Adolphe Sax, Belgian maker of musical instruments, patented that serendipitous piece of advanced plumbing called the saxophone, in Paris in 1846, he probably had no idea that he'd given the world the most important solo instrument in the development of jazz some seventy years later.
Thank God he did, because a young Sydney bloke called Colin Loughnan, growing up in the 50's in Ellen Street, Randwick, was to be one of the many jazz greats to take this instrument and make it indispensable to the art form.
This beautiful album of Col's original compositions (and one great standard) perfectly shows and establishes the credentials of each player: Kevin Hunt (piano), Col's son, Lyal Loughnan (Bass) Don Rader (trumpet/flugelhorn), Sam Rollings (guitar), Toby Hall (drums), and a cameo appearance by pianist Judy Bailey (on tk.4), make this one of the most enjoyable and exciting releases in Australia Jazz for years.
"Ellen Street" will delight and reward its owner long after other albums have faded into the mists.
We all owe Adolphe Sax and Col Loughnan a big "Thank you"!......Enjoy!
Phil Haldeman
2NSB-FM Sydney
"Keeping the Jazz Alive"
"Ellen St Review" [Australian clarinet/ sax mag]
"Ellen St is a new recording from one of Sydney's most respected exponents of jazz Saxophone, Col Loughnan. For those who don't know of him, the range of praise and good wishes from other prominent Jazz musicians (James Morrison, Don Burrows, Vic Morosco, and more) that fill the CD liner, will give an idea of the many people with whom Col has worked with.
Another feature of the best jazz recordings is the line up of musicians. Ellen St is no exception, featuring Kevin Hunt, Don Rader, Sam Rollings, Toby Hall and Lyal Loughnan (Col's son). There is also a special track, "Care for a Waltz", which is a beautiful and lyrical trio featuring Judy Bailey with Col and Lyal Loughnan.
Loughnan's saxophone playing on soprano and tenor saxophones is superb throughout. He never lets the soprano saxophone sound shrill, always seeking the warmest possible sounds and the tenor speaks with an easy sound that is really natural and likeable. The opening track "Playing Games" features the soprano saxophone in some gymnastic technical passages before the tune tightens up to introduce the main themes. In contrast track three, "The Journey" is a playful juxtaposition of Latin and jazz styles. The songs on the CD not only feature superb ensemble playing from the band, but also wonderful solos from all of the musicians.
Ten of the eleven tracks are composed by Loughnan, making this CD as important reference to the work of one of Australia's jazz voices. This update of Loughnan's work is long overdue and I hope that this recording can help to raise the profile of Loughnan outside of his Sydney base.
The recording quality is very fine, featuring warmth to the saxophone sounds and crispness to the rhythm section throughout. Most of the recordings were made by the ABC for Jim McLeod's Jazz Track program. The contribution of the ABC to the recorded history of Australian jazz is inestimable, and it's fantastic that these recordings have been released for a wider audience to investigate.
I'd recommend this recording to all lovers of Australian jazz and to saxophone players everywhere" James Nightingale
Australian Clarinet and Saxophone Magazine
Ellen Street Liner Notes;
"Although jazz has never been considered an easy art-form, just playing a tune and then improvising on it is not the hard part - there are many who can do that. The element that makes a performance great [rather than just good] is that indefinable quality that marks it as individual, unique. It's so easy to sound like everyone else and so hard to create a sound that immediately identifies the music as coming from a particular person's heart. Everything I've heard from Col over the years has had that quality - and in this latest creation he exceeds himself yet again, as do the entire group. If you are a lover of jazz because hearing beautiful ideas expressed in new ways moves you, then this CD is for you - as it is for me"
James Morrison
"Feel The Breeze" Review/ Rolling Stone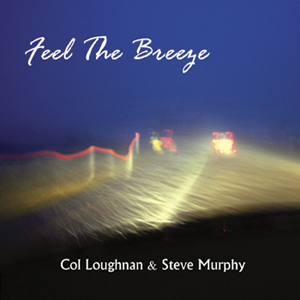 "One of the rare Sax Duo's in this country consists of two Sydney Musicians, Col Loughnan (flute, tenor & soprano saxes) and Steve Murphy (Guitars). Loughnan, is an established player, composer and arranger with a long list of credits. Murphy is already a seasoned and much acclaimed player, with a long career in rock and jazz. "Feel the Breeze" wears the combined and individual weight of these fine players easily. It's as scintillating as its title and seaside ambience (the cover pic, the label, a tune called "Coogee Shuffle") suggest both musicians live in Sydney beach suburbs and in its own light manner, the album bears a distinct sense of Australian origin, modern but with roots. The title track is an especially appealing piece, for much more than the beach sounds that turn up occasionally. Written by Loughnan, it posses a poignant melody built by the soprano sax and Murphy's limpid chords.
Apart from this and "Coogee Shuffle" – a knockabout, jaunty piece with Loughnan contributing bluesy soprano – the bulk of the album consists of standards, here sounding as fresh as ever in the interpretative hands of the duo. The couple vigorously explore the corners of Charlie Parker's "Confirmation" Ellington's "Sophisticated Lady" Cole Porter's "I Concentrate on you" the wonderful gentle" When Sunny gets Blue," and "Body and Soul". Both players are lively, expansive soloists and their album exudes warmth and creativity without heavy handedness – in short, a lot of character"
Shane Nicholls, Rolling Stone Magazine
"Feel The Breeze" Review
"FEEL THE BREEZE is a little gem unearthed after almost a quarter of a century. The duo of reeds player Col Loughnan and guitarist Steve Murphy play jazz at its best. Eight Tracks including Confirmation, Body & Soul, and I Concentrate on you, but none better than Ellington's Sophisticated Lady. The music has been brilliantly digitally re-mastered to buff the different facets of this SPARKING DIAMOND".
Barry Morris – Jazz Writer – The Daily Telegraph, Sydney